Taking a page from The Librarian's blog and reposting and entry from my Spaces blog.
Prudence and I celebrated our anniversary yesterday with a movie (Spider-man 3) and dinner (Fiesta Ranchera). No Zorba's this weekend - trying to watch our milage these days. Panda watched her brother and sister...and no one was killed. All-in-all, it was a success! Tonight we get to celebrate on our new memory foam mattress topper :) Happy Anniversary, Honey!!!
And while digging this one up, I re-read the comments and remembered that you can stop by and congratulate Christy and Cowboy on their anniversary as well!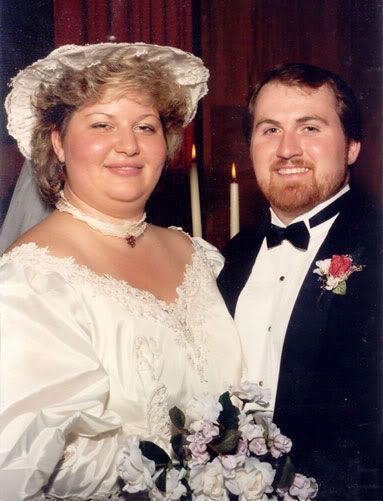 Memories related to our 6/4/1988 wedding date:
The month prior to the wedding saw me receive my first 2 speeding tickets. The first happened while heading down to my hometown to solidify some arrangements. I was the last in a line of people speeding – and the easiest to nab. The second happened the Thursday before the wedding on Saturday. Prudence was to deliver some sheet music to our new vocalist (the other came up with laryngitis), but she forgot. So she asked me to run the errand. I was in a hurry to drop off the music and pick up pizza (Godfathers – our favorite at the time) and went 40 in a 30. I tried to weasel out of the ticket – tried to use the "I'm getting married this weekend and going to drive on my honeymoon" in order to keep my license, but it didn't work. Probably should have shown some leg or something…
No wedding planner, so Prudence and I came up with the wedding program/scorebook. I listed her sister as the "Matron of honor" because I thought that sounded more formal. I later found out it meant that the "maid of honor" was married. Which she wasn't. I still take grief about that from time to time.
I was okay until about 10 minutes before the ceremony when I started to freak out at the whole commitment thing – the rest of my life with this woman? Pacing frantically in the alcove at the front of the sanctuary. Speaking in loud and hurried speech. The minister (who was also a very good friend of mine) settled me down enough to get me out on the stage. As the bridesmaids came down the isle, I started to calm down. Then when Prudence and her dad began their walk, my heart immediately went calm. It was like no one else was there. Only her. And that was a cool as it gets.
During the lighting of the unity candle, Prudence and I had some time to talk quietly – just between us. Many people have asked us what we were talking about. That's our little secret.
After the wedding, we had a dinner (or was it supper?). Because I insisted in the tradition of not seeing the bride before the wedding, we took all our pictures after the ceremony. So we were late to our own dinner, and most people had finished by the time we got there. I'll regret that as long as I live.
My grandparents from Iowa were able to make it to the wedding. We had a number of great pictures taken of and with them. The next year, on my birthday, my grandfather died of a heart attack. Our pictures are the only professional pictures of him left, and I'll be forever thankful of that.

My sky-blue 1979 Cutlass was covered in Oreo cookies when we left the church. Most of them stayed on during our drive to Chicago for our wedding night at a Days Inn off Halstead Avenue. We washed them off the next morning.

My car had been in an accident before the wedding and still had a can of paint left in the drunk from the paint job. I forgot to take it out before we left. Somewhere along the line it tipped over and drained out below the rear quarter panel and onto the hotel parking lot. We drive by the hotel every once in a while on our way to Michigan to visit her parents and I think of this every time.
We went to Niagara Falls for our honeymoon (again, the traditionalist in me). About 30 miles from the Falls, my radiator went out. We nursed the car into town and had to make arrangements to get it fixed. The concierge at the hotel got a case of his favorite beer.
We were on our honeymoon for 10 days and only stayed consecutive nights in the same hotel once. This drove Prudence crazy. To get back at me, she spilled something on the floor in every room we stayed at. This has become an inside joke for us when we travel.
We also visited Boston, the Cape, and NYC on our honeymoon.
The Cards played the Mets at Shea Stadium on Monday, June 13th. We had planned to leave for home on Monday but I talked her into staying one extra day for the game. Romantic, aren't I? The only catch is that we would have to drive straight home after the game. The game went into extra innings and we left NYC at Midnight. We had NO IDEA how to get out of the city. Unfortunately we took a wrong exit off a bridge and ended up in a questionable part of the city with only a few working stoplights and streetlights. We pulled up to one red light and heard what we thought were gunshots down the road to our right. So I went thru the light. At the next light, we came across a truck stopped in the middle of the intersection. The driver's door was open, the engine was still running and no driver to be found. I ran thru this light, too. We finally found a truck route sign and followed it out of "Mr. Robinson's Neighborhood".
I drove until 5am and got us to somewhere in PA on the turnpike. I asked Prudence, who had been sleeping the entire way, to drive for me while I caught some Zs in the back seat. When I woke up 4 hours later, we were stopped along side the road in a rest area and a cop was walking away from our car. She'd become too sleepy to drive and had pulled over to rest. From 5am to 9am, we traveled only 75 miles. The rest of the way home we took turns driving 1-2 hours at a time. We haven't attempted a straight-thru drive since.
We paid so many tolls on our drive home that on our first night at home, I rolled over in the middle of the night and asked Prudence for toll money.
Sometime later in the week after we returned home, Prudence woke me up in the middle of the night to let me know that she heard something outside (we slept with our windows open for a breeze) and was worried a woman was in trouble. Not wanting to be bothered but still concerned with the woman's welfare, I told her to call the police. After she got off the phone, I finally woke up enough to hear what she was worried about. The woman was not in trouble. She was definitely "enjoying herself" and her time with a guy named Mike in an apartment 2 floors up. When the police arrived, I told them what my wife heard (that was strange to say at the time!) and that they probably didn't need to investigate any further. But because they just can't take my word for it, they paid a visit to the couple in 3B. Shortly after the cops left, I heard the woman laughing louder than I've ever heard anyone laugh before – including me. Dare I say that Prudence then challenged me to "be like Mike"?
Happy Anniversary, Prudence! I love you!